What Are Visual Notes?
Visual notes are good for representing your ideas and understandings. A mix of handwriting and hand drawing makes it easy and effective to capture what you see, hear, and think. They are also called sketchnotes or graphic recordings.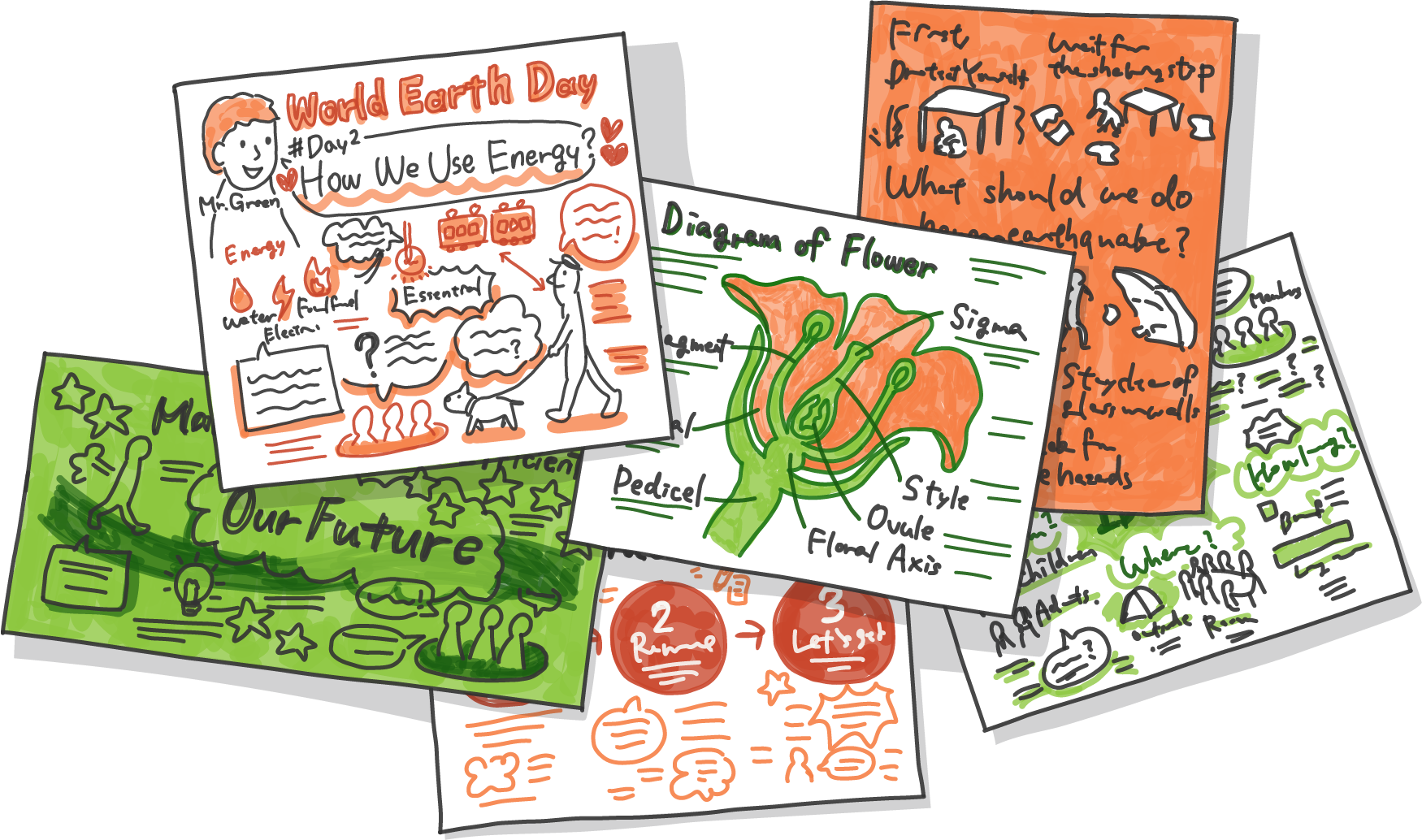 What do people draw?
People take visual notes in many ways. These are examples from Voynetch.com!
For a record of presentation
Take some visual notes to record a presentation graphically when you attend a conference. Please listen carefully and understand the speech deeper. You need to choose important parts to draw because you can't record everything on a single sheet.
For a memorable diary
Keep a picture diary about how fun the place you went, or how delicious the food you ate. You can enjoy looking back at the memories by the visual notes, and people who were with you will be happy, too.
For an illustrated diagram
The visual note below describes a fable, "Blind men and an elephant." Even a simply illustrated diagram produces an interesting visual note work.
For drawing ideas
This visual note describes how and why the author follow the steps when she makes her coffee. She uses a visual note for expressing her thought and seeing it from an objective perspective. Visual notes are effective to understand yourself better.
For describing your favorite things
Share your prized possessions through visual notes. You can show the quintessential part of them better than words or photos.
For notes of what you learn
While you are taking visual notes, you would grasp the concept and knowledge more easily. Also, the visual notes become useful images for other people to learn what you learned.
Tools
There are two popular ways:
Drawing on paper with pens.
Drawing with a tablet device such as an iPad, a stylus pen, and drawing apps.

If you are getting interested in visual notes, why don't you start using tools you already have?
Our favorite tools:
Here introduces some tools that we like to use for visual note taking. iPad with Apple Pencil is one of the best ways to draw digitally.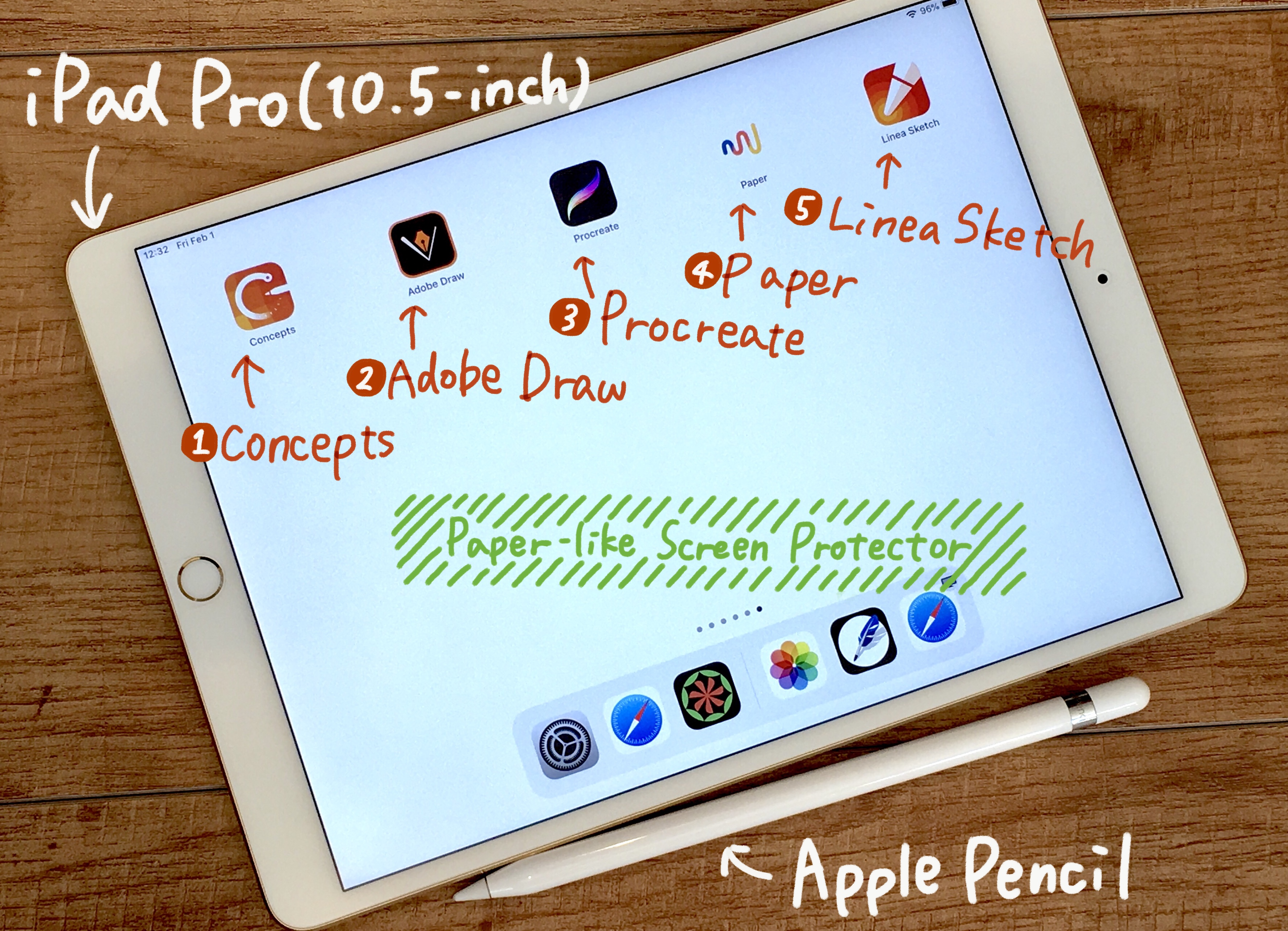 (This image was created with Procreate, and the others on this page were done with Concepts.)
Devices
Apps
Others
Paper-like Screen Protecter
If you feel the surface of your device is too smooth to draw on, this kind of screen protecter will help you.
Why are visual notes powerful?
While we are drawing, we think about a lot of things;
Which information is important?
How are they related?
How do I describe them?
Am I able to draw my thoughts?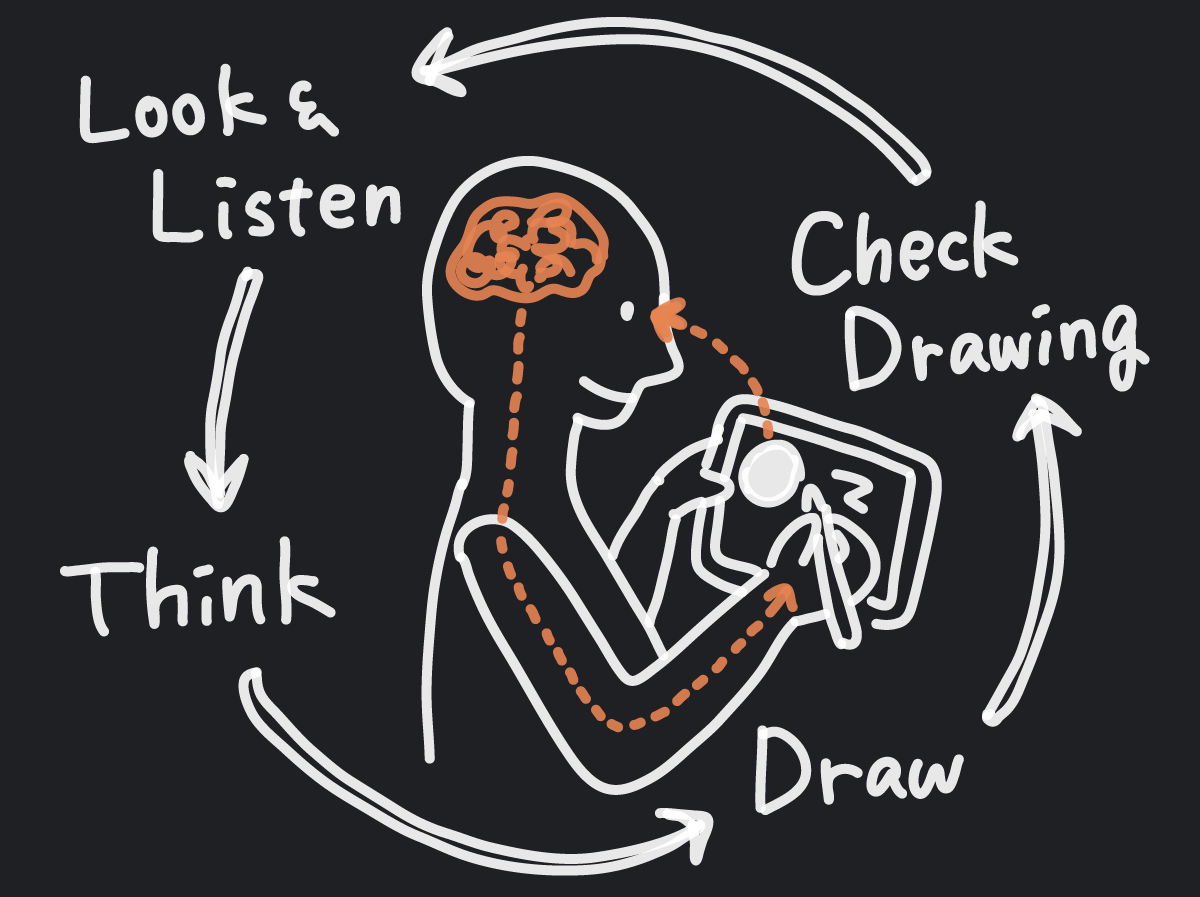 We repeat seeing/listening, thinking, drawing, and checking it. Through this cycle, we understand the objects deeply.
Can't draw well? ― No problem!
You could draw visual notes for yourself or to tell something and they don't have to have anything to do with perfect illustrations. If you can't explain with only pictures, you can add some words.
However, there are some easy ways to draw.
They are popular icons to show emotions. Draw a face with simple lines and dots, and add an icon!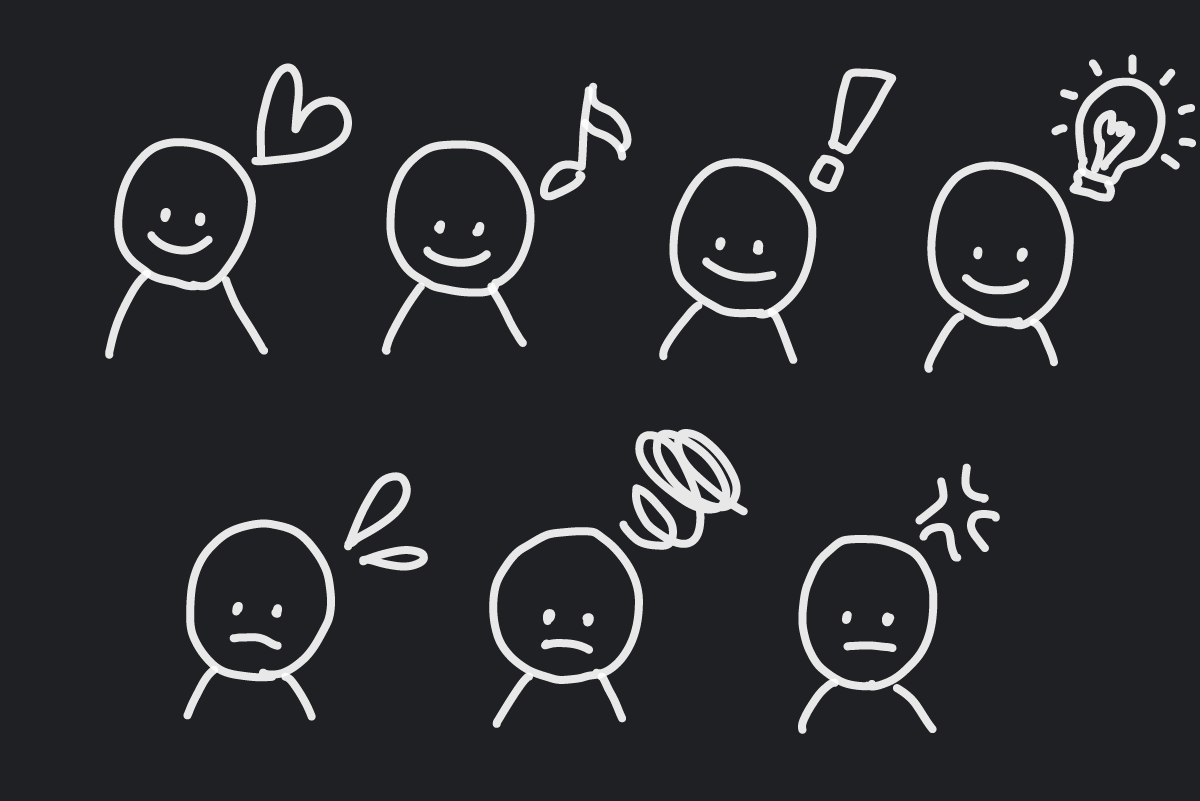 If you want to record visually, use these shapes.

Draw clearly rather than skillfully
People who see your visual notes are interested in what you draw rather than what techniques you have. Write easy-to-read letters for your readers.

See lots of examples
When you don't have ideas of what to draw, I encourage you to look at many examples including doodles, comics, illustrations, and picture books. The more you see drawings, the more you will get to draw.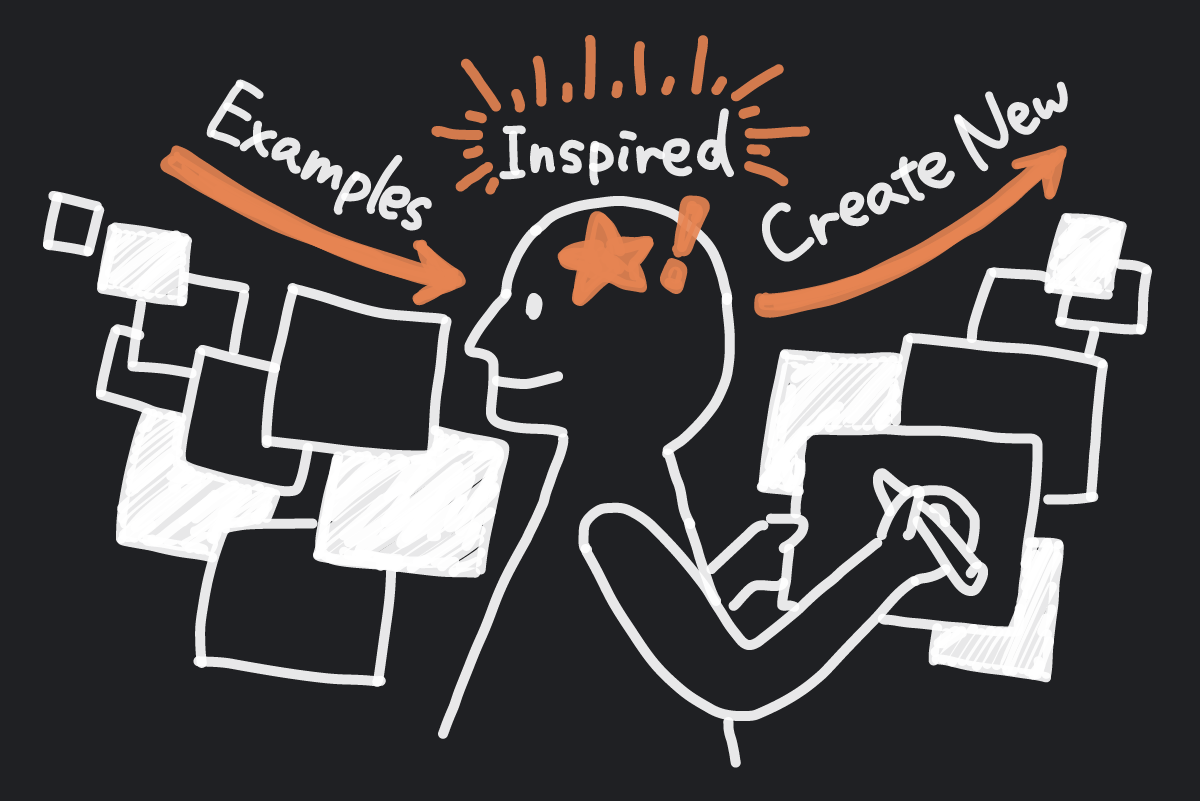 Here are some recommended websites for visual notes.
Voynetch. Yes, this is our website. This is a place to share visual notes. Great drawings are uploaded everyday.
Instagram is popular among visual note takers, too. If you search #visualnotes or #sketchnotes, you will find good examples.
Sketchnote Army is a website that provides some articles of great case studies. You will see many sketchnote samples there.
After drawing...
I encourage you to share online. Your visual notes will inspire somebody and they will create new ones. If you are interested in Voynetch, why don't you sign up? Sign up page is here!